Listening to the sound of coffee and love
2019-05-20 09:20
network
Wen Wen
Starbucks's first sign language store landed in Guangzhou.
(Guangzhou, May 19, 2019) today, Starbucks's first sign language store opened in Yuexiu Oriental Plaza, Guangzhou. Under the testimony of Guangdong disabled people's Federation, China Deaf Association, Guangdong Deaf Association, Guangdong province sign language association and many other media, the hearing-impaired coffee barista and the ordinary coffee maker wore aprons embroidered with the corresponding gesture of the Starbucks alphabet, opened a silent coffee trip with the guests, and formally announced the opening of Starbucks's first sign language store in China.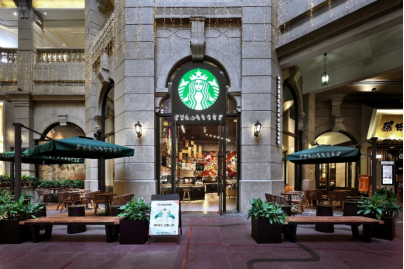 Starbucks's first sign language store in China
Silent experience: new design, accessibility, accessibility
Starbucks's first sign language store in China is located in Yuexiu Dongfang Plaza, Guangzhou's old city. For customers with hearing impairment, Oriental language sign language stores will be the first choice for them to relax, and for ordinary customers, this "quiet" Starbucks store is as fragrant as coffee and the same as the barista's smile.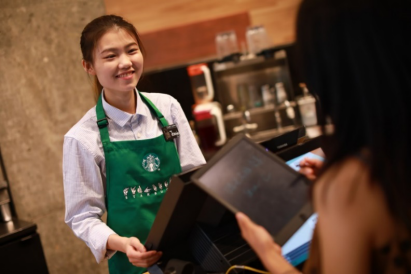 New point system
From the sign language on the outside umbrellas and doorframes, to the sign language signs in the shop, to the sign language embroidery apron of the hearing-impaired coffee maker, these "silent" invitations made customers feel the difference from the very beginning. At the beginning of the preparation of sign language stores, the Starbucks design team launched a targeted store design and transformation from the actual needs of the hearing-impaired people. In order to achieve barrier free communication between partners and customers, the store has designed a new order system, including handwritten panels for handwriting, hand held menu cards, and dot and double-sided displays. In order to clearly convey customer needs, drinks and food items in stores are marked with special numbers, so that barista and customers do not need to "speak", and can easily complete the order. The unique vibrant reminder and the coffee maker's "thank you" in sign language when they deliver the coffee will tell you, "though I can't hear you, I'm happy to share this good coffee with you."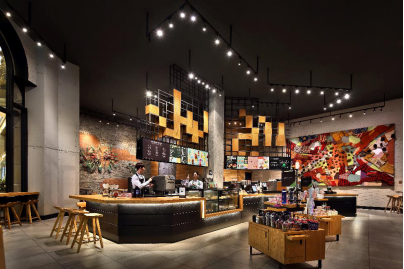 Starbucks sign language store design
In the stroll shop, sign language elements and coffee culture can be seen everywhere. At the top of the bar, the sign of love is combined into a sign language of love. The sign language leaves are found in the coffee branch paintings on the wall of the guest area. More pleasantly, Starbucks partners are also involved in the creation of a large mural of the store. The designer intertwined the patterns and elements of different coffee producing areas. Every sign on the murals is surrounded by coffee beans, symbolizing the theme of "love", "bravery", "peace" and "fusion".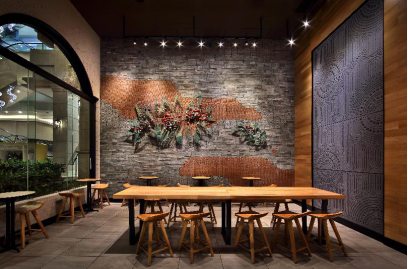 The cafe branch with the sign language and the leaves in the guest area.
As the first sign language store in Starbucks China, Guangzhou Oriental Wendell will also list a series of exclusive peripheral products, including notebooks, environmental bags and mugs, which will enable the hearing impaired group to bloom in a wider space.
Pluralistic community: equality is waiting to create a "home"
The passion for coffee and the enthusiasm for giving back to the community are the commonalities of all Starbucks partners. At present, Starbucks China has more than 100 barista partners with special needs, including hearing impairment. "Equality is waiting" is the respect and support for them in their efforts to realize their dreams. Sign language stores provide unified training on sign language, coffee skills and management knowledge for all shop partners to ensure high quality Starbucks experience, and strive to create a mutually respectful and inclusive environment so that stores can become another "home" with their sense of belonging.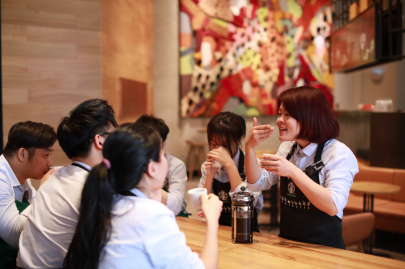 Starbucks provides unified training for all shop partners in sign language, coffee skills and management knowledge.
Chen Siting, a hearing impaired partner at the store, said in sign language, "we can not hear you, but we are delighted to share a cup of delicious coffee with you. I believe there will be more hearing-impaired partners in the future, like me, to find something worthy of love. She has just been certified by Starbucks's barista, and has grown from a star coflator to a coffee master. In Starbucks East Guangzhou Wendai shop, all the baristas have passed strict training, and more than three hearing-impaired partners have been in the store management positions. One of them has joined Starbucks for seven years, and is also the first Starbucks hearing impaired coffee master in China.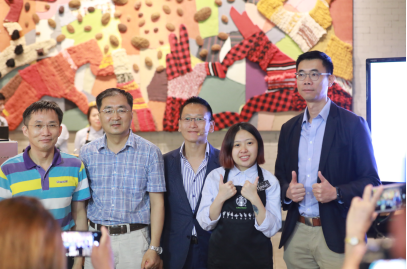 Chen Siting, a hearing-impaired coffee maker, wore a black apron that day and became a "coffee master".
Starbucks China plans to set up the first sign language shop for the new opening to become a platform for learning and communicating with hearing-impaired coffee barists. It will organize and hold sign language classes and coffee classrooms regularly in shops to enhance understanding and integration among different communities. At the same time, Starbucks China will also carry out long-term cooperation with Guangdong Deaf Association to provide employment guidance and support for hearing impaired groups, and continue to carry out job skills training for hearing-impaired people, so as to enhance professional skills and help hearing impaired people have more potential for future development.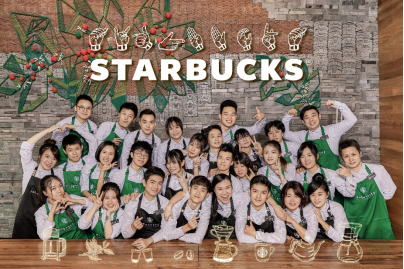 Starbucks's first sign language store partner in China
"Starbucks has more than 3800 stores in China, which may be the quietest." Wang Jingying, chief executive of Starbucks China, said: "we have been working hard for 20 years in the Chinese market. We have been working hard to become a distinctive company. We must carry out the solemn promise of" being in China and for China "and actively integrate and give back to the community at the same time of value oriented business growth. Today, Starbucks's first sign language store in China is officially opened. We hope that it can create more platforms for communication and self-expression for hearing impaired groups. We hope that such an exploration can help hearing impaired groups find greater possibilities in life, and let star powder and customers understand and understand hearing impaired people through this special store, create a unique "third space experience" for different needs of the community, and create a pluralistic, equal and integrated community atmosphere.