Over 600 yuan was summoned for bathing and scanning, and thousands of people were arrested for yellowing. The rumor has come to repentance.
Recently, some netizens were exposed. Recently, the Yixing police in Jiangsu set off a yellow storm. All those who paid more than 600 yuan in the bathrooms were called to the police station.
Along with the news, there was a screenshot of a police station summoned by the police station of the Yixing Municipal Public Security Bureau. The screenshot showed that the person who received the message was summoned on the grounds that he was sent on suspicion of prostitution, asking him to contact the police station after receiving the text message, otherwise he would be regarded as refusing to summon. At the end of the message is the way of handling police officers and the address of the police station.
On the night of April 24th, the official micro-blog of Yixing Public Security Bureau of Jiangsu Province announced: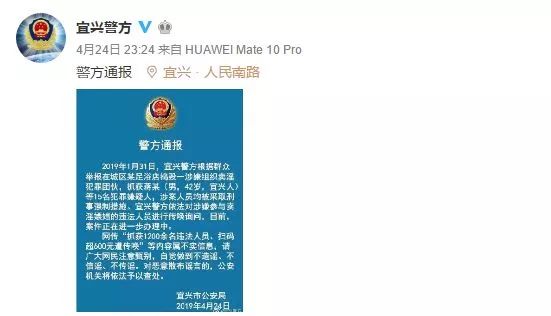 In January 31, 2019, according to reports from the masses, the Yixing police destroyed a suspect Gang suspected of organizing prostitution in a foot bath shop in the city, and arrested 15 suspects, including Chiang (male, 42 years old, Yixing people), and all involved were taken criminal coercive measures. Police in Yixing have summoned inquiries against illegal workers suspected of being involved in prostitution. At present, the case is being further processed.
Net transmission "capture more than 1200 illegal personnel, scan code is over 600 yuan summoned" and other content is false information, please the majority of netizens pay attention to screening, consciously do not rumor, do not believe in rumors, not rumors. The public security organs will investigate and punish the malicious rumors.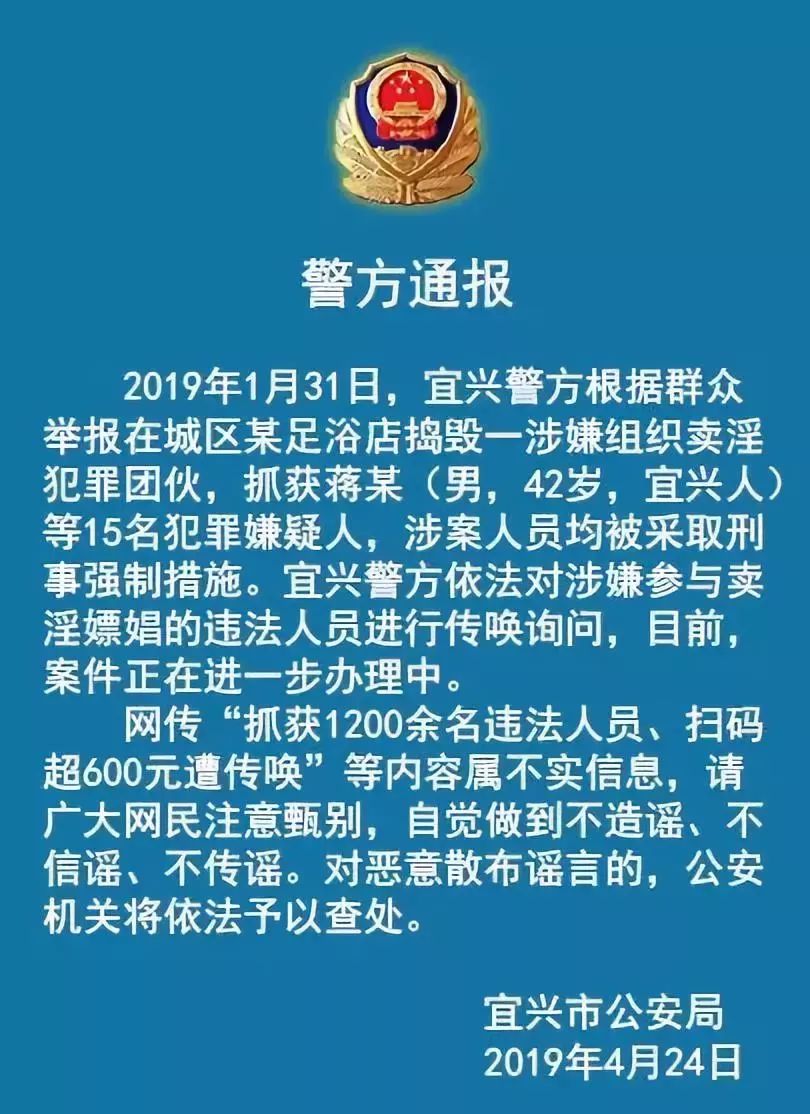 In April 25th, the police again issued a notice: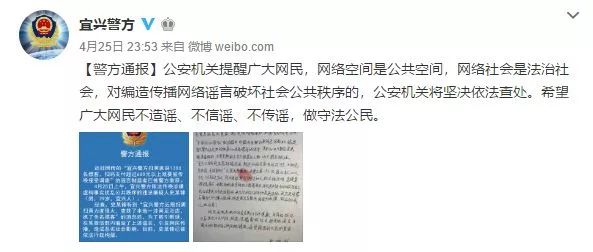 Recently, the rumors of "Yixing police pornography seized 1200 whoring clients, and the payment code for more than 600 yuan will be summoned for investigation" has been seized by police.
On the morning of April 25th, the Yixing police summoned Shi Moufeng, a 29 year old Yixing suspect, who was suspected of fabricating facts and disturbing public order.
According to the investigation, Shi Feng heard that "the recent anti corruption efforts of the Yixing police swept the country, and seized the news of a local yellow foot bath shop and arrested more than one whore". In order to attract eyeballs, the rumor was fabricated in a WeChat group, causing Internet users to spread, resulting in bad social impact. At present, Shi Feng has been detained according to law.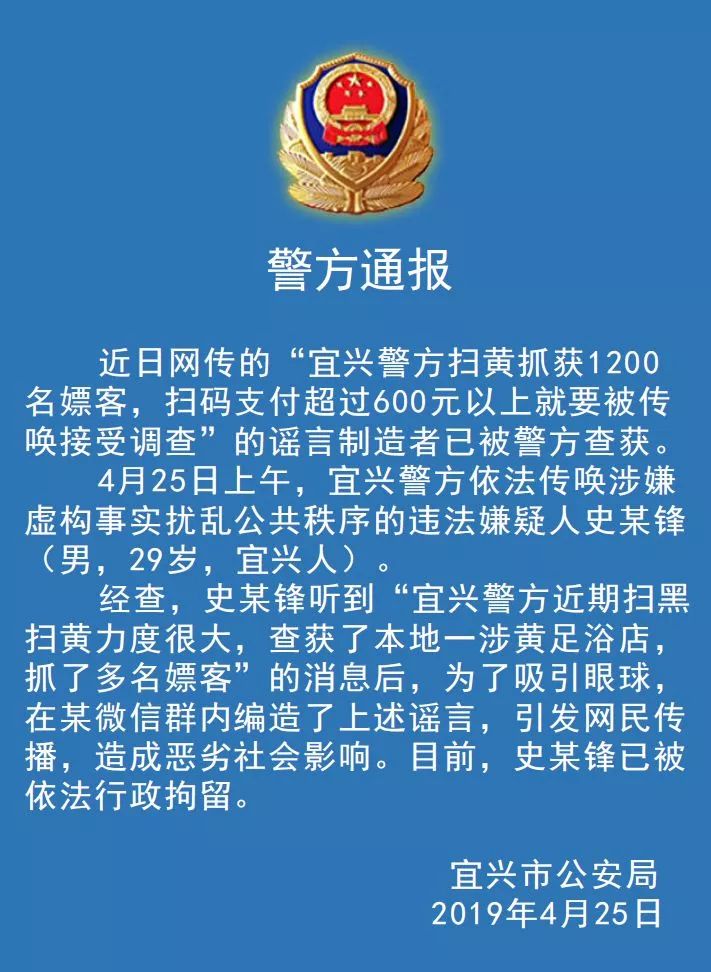 The following is a history of a Feng repentance.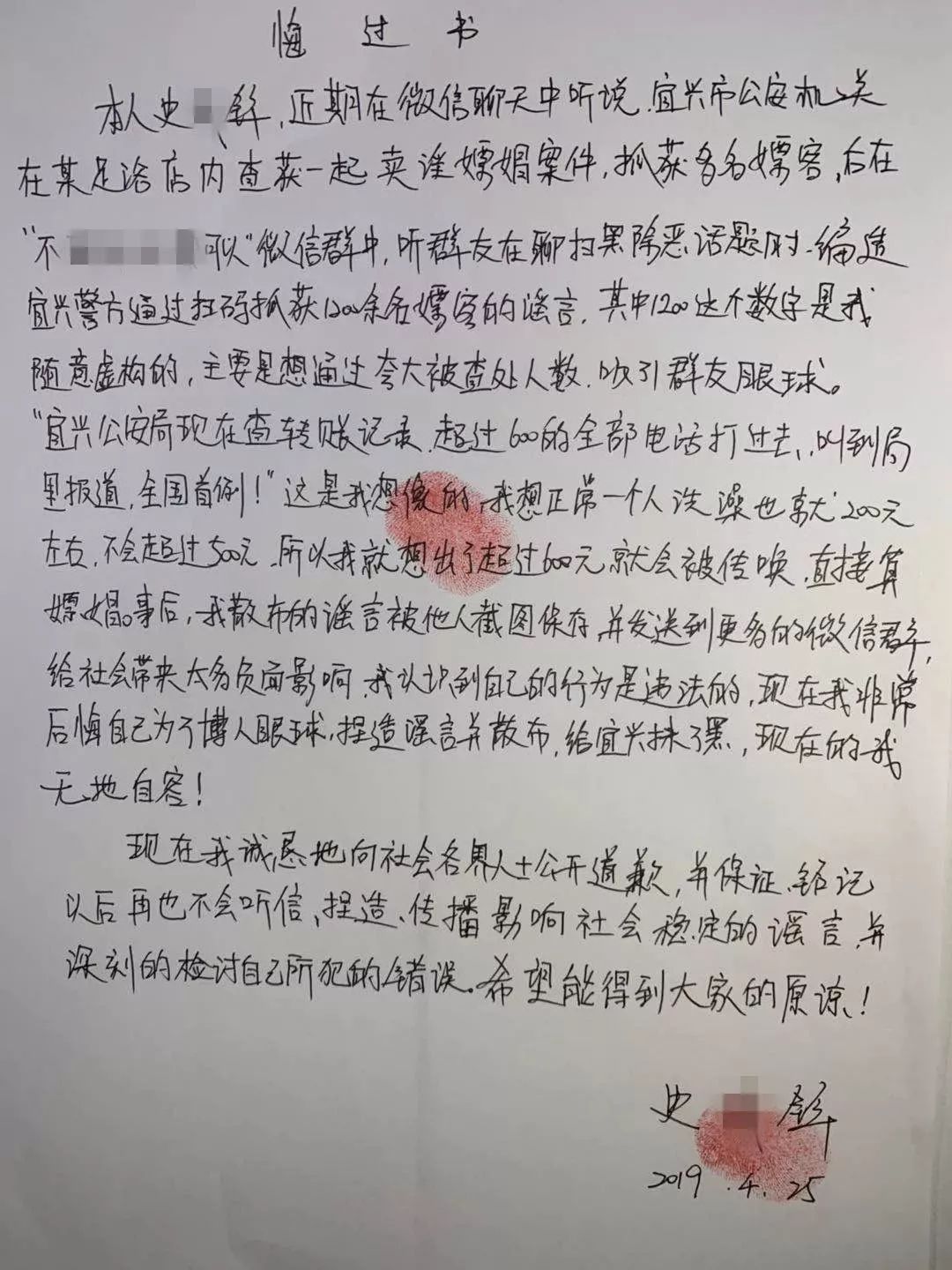 This reminds the vast number of netizens that cyberspace is a public space, that the network society is a rule of law society, and that the public security organs will investigate and punish the public security organs in order to fabricate and propagate Internet rumors to disrupt public order.
Source: China police net integrated Jiangsu police, Sina News.