Wu Lei ushered in the debut, the performance you hit?
2019-02-03 21:33
beijing evening news
TF010
Tonight, Chinese international Wu Lei in La Liga twenty-second League substitute appearances, ushered in his debut. Finally, the Spanish team than the 2 to 2 draw Villarreal.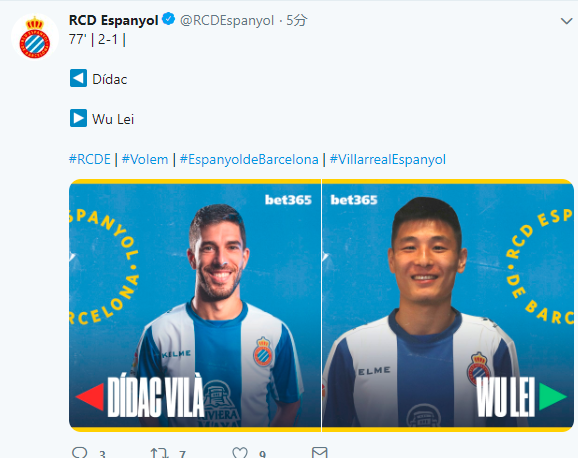 The game has just joined Wu Lei into the Spanish team bench. Seventy-eighth minutes, Wu Lei came off the bench, while the Spanish team than the 1 score is behind 2.
Wu Lei after the game, good performance. 3 minutes after the Spanish team would tie the score. Eighty-sixth minutes, Wu Lei backcourt to poke the ball back, forcing Iborra to get a yellow card foul tactics. Ninety-second minutes, Cameron multi pass, Wu Lei ball into the edge of the area was Alvaro - Gonzales destroyed the bottom line.
With tonight's debut, Wu Lei became Chinese second staged debut player. A debut in La Liga player is Zhang Chengdong, Valle Cano and Ma Jing game in December 30, 2015.
Source: Beijing evening news reporter Li Li
Editor: TF10