North Korea confirmed: the JSA established since 1953 for the first time to disarm
2018-10-29 14:25
Beijing daily client
TF003
South Korean Defense Ministry confirmed 28, South Korea, North Korea and the United States led "UN command" to verify the Panmunjom JSA disarmament, found no abnormalities.
In October 26th, the DPRK side of Panmunjom, South Korea's chief representative, the Department of Defense Policy Officer Kim were major general (left) and the DPRK delegation of Changan Yi mountain will shake hands. South Korea and North Korea at Panmunjom 26 DPRK side unified court at general level military talks, agreed next month at the border near the demilitarized zone between the 11 garrison post withdrawal. (Xinhua / AP)
JSA is the official name of Panmunjom, round on the map, in the Korean War Military Armistice Commission such as the main venue construction as the center, a radius of about 800 meters, the military demarcation line from across the peninsula. Garrison from the South Korean capital Seoul, about an hour.
The implementation of the two party and the "UN command" staff of 26 to 27 days to verify the disarmament of jsa.
South Korean Defense Ministry said in a statement: "the joint verification, three party direct confirmation...... The joint security area of all disarmament steps to implement. We confirmed that the JSA since 1953 to set up the first successful implementation of disarmament."
South Korean President Wen zaiyin meeting in the North Korean capital of Pyongyang and North Korean leader Kim Jeong-eun in from September 18th to 20th, signed the "9 - 19" military agreement, agreed in October 1st began a joint security area and the Demilitarized Zone on the Korean Peninsula in the chorwon arrow mountains mine clearance.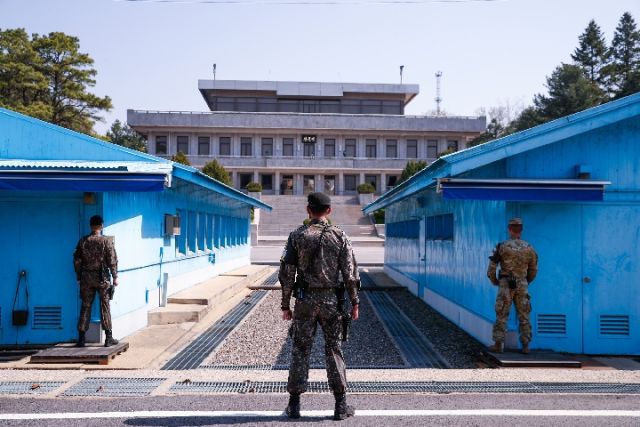 4 18, the inter Korean military demarcation line in Panmunjom, South Korea and the United States soldiers on duty in the ROK side. (Xinhua News Agency reporter Wang Jingqiang photo)
According to Yonhap news agency, "9 - 19" agreement, Minesweeping Operations launched 1, 20 the end of the day. The DPRK confirmed out 5 mines, South Korea did not find mine; the end of the removal of the joint security area, the post withdrawal of troops and weapons work 25 days. The removal of 5 posts, the removal of 4.
South Korea's defense ministry said that after disarmament, the three parties will negotiate the establishment of a new military outpost, to manage the JSA and re adjust the monitoring equipment.
According to the inter Korean negotiations, once the JSA to disarm and complete the following procedures, the Korean people and foreign tourists every day morning 9 am to 5 pm, can walk freely in this area through the inter Korean military demarcation line. The two sides will each stationed there 35 unarmed soldiers.
According to South Korea's argument, the target is expected to this year, the implementation of early next month. (source: Xinhua)
Editor: Zeng Allison
Source: Beijing daily client
Edit process: RB003